Every business is a "living" entity.  As such, there are internal processes and functions which are critical for the life of the organization to continue, and others which the business can survive without, at least in the short term. The key is knowing the difference – and ensuring all leaders are on the same page when it comes to identifying the value and needs of each part of the business. For many companies, the Learning function is among the least understood; and this can cause leaders to disagree on important decisions that impact the company's future.
Depending on the company's culture, leaders and employees may think of the Learning function in one of two ways:
Learning is important, like the brain or heart of the company; "It's critical to have; we can't live without it!"
Or,
Learning is a nice-to-have, like an arm or leg for the company – "It's useful to have; though it would hurt to lose it, we can go on just fine if we had to!"
This dichotomy matters because eventually every organization will be faced with the hard choices around cost-cutting, whether to get through lean economic times, respond to new competition, or expand the business. Leaders must also be able to identify whenever a critical operational area needs attention because it's not able to function properly.  They must know with surgical precision how deep they can safely cut into each operational area, including Learning, so as not to harm the overall health of the business.  An educated decision around the Learning function can be crucial for organizational success.
Numbers Are Important – But Not Always the Whole Story…
If we use the balance sheet as an indicator of tangible worth, Learning (as a function) can easily be categorized as an expense.  After all, there is no denying that companies pay for:
salaries (trainers, managers, instructional designers, IT support, etc.);
learning design software, equipment, and supplies;
implementation and maintenance of the Learning Management System (LMS); and
printing costs for manuals, guides, job aids, and other training materials.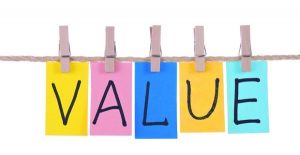 But there are also the non-tangibles to consider, because Learning can be akin to the life-blood of a company.  Learning ebbs and flows throughout successful organizations, helping other critical operations function optimally. While they may not be immediately apparent, there are also significant benefits to consider when determining the true value of workplace Learning.
For instance, research has shown that learning organizations report gains in:
profitability
productivity
quality
innovation
attracting and keeping top talent
employee commitment to achieving organizational goals
employee and customer satisfaction
employee and customer retention
employee engagement and teamwork
employee resilience during times of change
And a workforce committed to learning may also enjoy lower levels of:
workplace stress
team and turf conflict
safety and compliance violations
voluntary turnover
Furthermore, the Learning function's purpose is to enhance the "people strengths" and address the "people challenges" within a company.  For the first time in history, there are five generations working simultaneously in the U.S. workforce.  This multi-generational dynamic brings its own set of business opportunities and employee performance challenges.
Per Price Waterhouse Cooper, by 2025 Millennials will represent 75% of our workforce making it hard to ignore their perspectives on workplace learning.  In Deloitte's 2015 Global Millennial Survey, Millennials were asked how useful they found the skills gained in college compared to those learned on the job.  Their responses are insightful:
"What is the true value of organizational Learning?"  
The answer will vary depending on how your leaders weigh the tangible expenses against the intangible results and benefits Learning and Development brings to your company.  The key is to consider the big picture and not focus on physical costs alone.  "Value" may also be impacted by your company's core beliefs, business goals, and organizational needs.
Develop Your Company's Gameplan
Define the value of Learning to your organization (a must-have vs. nice-to-have) based on your defined criteria.
Implement a plan to communicate and educate all employees. Introduce your company's expectations around employee learning and professional development at new-hire orientation (whatever degree of importance is attached, everyone should know). Ensure your leaders' actions and important decisions are aligned to support that value.
Provide current and new leaders with guidance and support for decision-making. A new leader might struggle between meeting a company goal for team production or completing a required company-wide Learning initiative by a set deadline. Sometimes exceptions are needed. Be open-minded and listen to your people. Have a process in place to address concerns and follow-through on deferred commitments. Whatever direction is ultimately chosen, ensure everyone is on the same page.
Because Learning and Development directly affects the success of other vital areas in the organization, it's important not to pre-judge its value solely by the P&L, or even by a single leader's perception of its worth. Arm your people with the facts as well as the numbers. Provide your leaders with the knowledge, resources, and tools to make better strategic decisions to keep your company healthy and resilient throughout the ups and downs it will undoubtedly experience in its lifetime.
Author: Julie Ramdial, President of U Learn Enterprises, Inc.